Basic Information;
Full Name:
Milicent (Millie) Finnigan
Date of Birth:
August 31st
Age on September 1st:
4
Age on next birthday:
5
Blood Purity:
Half-Blood
Hometown:
Finnigan Irish Pub and Brewery, Diagon Alley
Current Home:
Finnigan Irish Pub and Brewery, Diagon Alley
Appearance:
Hair:
Millie has long hair which is a touch darker blonde than her twins. She is as happy having it down as up and uses a range of style.
Eye Color:
Millie has light blue eyes.
Height:
Millie is just a little bit shorter than her twin sister Morgana.
Weight:
Average
Body Type:
Millie is in most ways identical to her twin. However she is a little bit shorter and slightly stockier than Morgana. Other than that the girls have the typical bodies of pre-teen girls.
Dress Style:
Millie likes everything from jeans and a t-shirt to summer dresses. She is never shy in what she wears and will sometimes even go out in her swimming costume. Millie is rarely dressed the same as Morgana, though it does happen, but a lot of the time she is matching. Like the same dress but in a different colour or a different outfit but the same jacket and their outfits are always co-ordinated to never not go with each other.
Other (eg birth mark, tattoo ect):
N/A
Personality:
Personality:
Millie is the less physical of the twins and finds sports difficult. She however loves to race with her sister even though she rarely ever wins. Millie is a bubbly, bright girl with a sweet smile. She loves to giggle and is happiest most when with her twin. Millie is a cuddly girl who loves affection. She is not overly good at hiding her emotions and whether she is happy, sad or confused its written all over her features. Millie is the shyer of the twins and is much quieter when not around Morgana. Millie is a perceptive girl and has a knack for finding lost things. Her Dad often jokes he could loan her to the local golfing club to find lost balls.
Millie is not really that competitive but she always tries her best at what she does. She is just happiest when taking part even if she knows she cannot win. She does not like it when she gets picked last at gym or when people leave her out of games. Millie is a compassionate girl who will jump into a river to save a drowning bug or be ready with a hug when someone is sad. However she is also a little too sensitive. Like when the family puppy died her parents had to tell it had gone to live on a farm because the truth would have upset her too much. However if Morgana is not too upset by something Millie tries not to be either. While her sister often leads her into adventures Millie does not need an adventure all the time to be happy.
Likes:
Her twin and her family. Her scooter, shopping for clothes, helping animals, cuddles and birthdays. Summer dresses, trips to the beach, snow, taking part in games, racing her sister, stomping in puddles, playing with her barbies, her sulvanians and finding lost things. Having her hair brushed, being around her twin, picture books, books about faraway lands, The Puzzle World book series, soft toys, when the sun is shining. Getting to wear her wellingtons, snack time and when her mother has left a note for her in her lunchbox.
Dislikes:
Being left out of games, being teased, cruelty to animals or people, when she is underestimated and being away from her twin too long.
Strengths:
Millie is a sweet, compassionate girl who is perceptive, excellent at finding lost things and cuddly.
Weaknesses:
Millie is too sensitive, not good at sports and is very shy when not with her sister.
Quirks:
Millie will hold her hand out for her sister's hand, automatically, even if Morgana is not around.
Habits:
Millie carries around her security blanket still. Though she keeps it hidden in the bottom of her backpack and only her sister knows.
Background:
Seamus and Susan Finnegan were a happily married couple. The birth of Millie and Morgana bought their children total to five and it would become six when Liam arrived next. Due to complications at their birth Millie was born a full hour after her sister Morgana. Which seems very little but is a lot with identical twins. Millie was always a little bit smaller than her sister, a little bit slower and that much shyer. Seamus and Susan had made the decision to go against the popular choice amongst their friends and not get a nanny. Susan was determined to be a stay-at-home mother and raise the children herself.
Seamus owned and ran 'Finnigan Irish Pub and brewery' and the family lived behind the pub. A door behind the bar led to their living quarters. From little the pub was home to the twins as much as their actual living area. They could often be seen wandering between the customers showing off new things they had or offering happy smiles. Seamus allowed it because he knew by the time evening came Susan would have the girls packed off to bed and they wouldn't be around for the heavy drinking. The pub sold a variety of drinks from butterbeer to the home-made Finnigan range. Millie and Morgana loved sitting at the bar with butterbeer mugs feeling like grown-ups.
The family was a busy, lively and loving one. Millie never felt she lacked attention or love even when her twin was not around. Though the girls were rarely apart for long. Millie sometimes found the noise of so many people around overwhelming but she would simply retreat to the garden, or her bedroom depending on the weather, until she felt alright again. Millie was often led into adventures by her sister Morgana but was just as happy sitting with one of her puzzle books as running around. Millie was the one the family turned to when they lost something because her perceptive nature meant she almost always knew where to look. The girls loved the freedom of Diagon Alley. They took their scooters up and down the street, clambered on the stone blocks they could jump from and loved playing outside.
The girls started school this year, in September, and it was a big shock for Millie. She found the days too long and often got overly tired. So her mother reduced her to only going in the mornings. She would have her packed lunch at school and then go home when break was over. Her mum hopes to have her back to full days before the summer. They go to a muggle school just outside Diagon Alley, on the same street as the Leaky Cauldron, as their father wants them to know muggle culture as well as magical culture. The school has no uniform and Millie already loves picking out what she is going to wear and often helping her sister choose her outfit too. She loves making sure she and her sister match even if they aren't dressed the same.
Family;
Mother (Name, age, dead or alive, blood purity):
Susan Finnegan nee Bones
Father (Name, age, dead or alive, blood purity):
Seamus Finnegan
Siblings (Name, age, dead or alive, blood purity):
Brianna Finnegan / 14
Aoife Finnegan / 13
Ciara Finnegan / 9
Morgana Finnegan
(Identical Twin) / 5
Liam Finnegan / 3
Other family members (Name, age, dead or alive, blood purity):
N/A
Other:

Favorite toy:
Her Sulvanian Families. They are animals that are given human characteristics and dressed in clothes. She has the Sulvanian barge, the caravan and the beachwood house. She likes to get them every present giving time - that or barbies - because she loves them so much.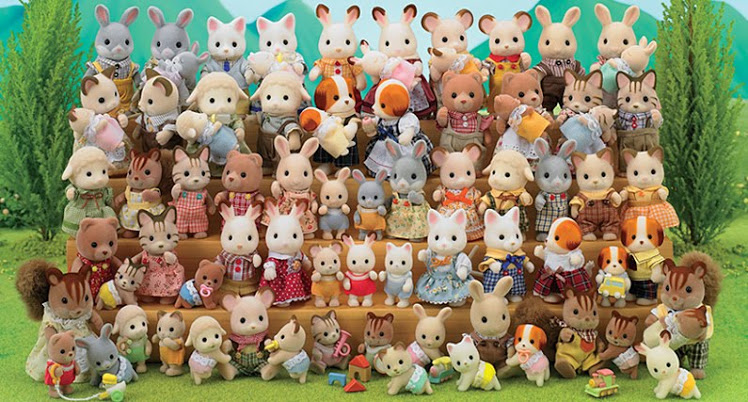 Favorite and Worst food:
Ice-cream and Tomato soup
Favorite game or show:

Game - When her Dad gives her and her twin a water squirter - they are normally used to clean the kitchen - and lets then run around Diagon Alley squirting each other.
Show - Barbie, life in the Dreamhouse.
Animal:
N/A
In Character point of view:
What do you want to be when your older?
I have no idea. I just want to be happy and still be with Morgana. Maybe we can get married to twins and live in matching houses and each have twin babies.
If you could change one rule your family has what would it be?
The rule that we cannot walk to and from school without having to wait for mummy to come get us.
How would the world be different if animals could talk?
Well if my Sulvanian's count as animals then it would be really awesome.
What is the hardest thing about being a child?
I don't think there is anything that hard that wouldn't be hard if I was a big person too.
Character is: