Basic Information;
Full Name;
Caireann Siobhan Brianne Ahearne
Date of Birth;
January 31st
Age on September 1st:
10
Age on Next Birthday:
11
Blood Purity;
Half-Blood
Hometown;
Cairne Valley, Ireland
Current Home;
Leadenhall Market, London
Appearance;
Hair;
Caireann has light brown, dark blonde, hair that falls past her shoulders when down. However she never ever has it loose. Instead she always has it in some kind of style. This ranges through half-up / half-down, bunches, pigtails, up with a ribbon, single ponytail, bun, fishtail plait and so on. She has a variety of ribbons and hair ties which she generally acquires from charity shops.
Eye Color;
Caireann has light brown eyes.
Height;
Caireann is 4ft 5" tall which is the average for her age.
Weight;
Average.
Body Type;
Caireann has the boyish figure of a pre-teen. She has an average build and is slightly stocky in appearance.
Dress Style;
Caireann wears a variety of colours, pinks and purples and reds and greens, but whatever she is wearing is guaranteed to match the ribbon or hair tie she is wearing at the time. Because the family does not have much money Caireann gets most of her clothes from second hand stores and charity shops. However Caireann never worried much about wearing all different types of clothing. A flouncy dress one day and jeans and trainers the next.
Other (eg birth mark, tattoo ect);
She has her ears pierced.
Personality;
Personality;
Caireann is a down-to-earth girl with a no worries kind of attitude to life. She believes getting stressed or anxious never achieves anything. She has a big heart and an affection temperament. She adores her friends and her family. She always kisses her mother when she leaves for school and then expects a hug ready when she comes home. She is a lively, confident girl who loves performing (hence why she loves her dance.) She is also an athletic girl who loves to be on the move. She loves the freedom of the open air and enjoys going for walks with Buttons, her puppy, it tow. Caireann does not feel she needs a lot out of life and therefore was never bothered by the fact her family does not have much money. All she wanted was her friends, her family and her puppy. Caireann has faced bullies in her time and believes if you laugh it off then the bullies do not know how to react and stop. Caireann is a very independent spirit and while she loves being in the company of others she does not need looking after as much as some children. Content to keep herself happy and always able to entertain herself. Caireann is relatively fearless and often does not see danger in situations when she probably should.
Likes;
Her best friends Saoirse Keeva and Angelica Jordan. Her long-haired Corgi Buttons. The outside. Walking, dancing, gymnastics, badminton, being busy and active. She loves Chinese food and Italian Food. While the family cannot usually afford to eat out once a year on her birthday Aiden Ahearne organizes for his family and the Keeva family to have a meal out at an Italian or Chinese restaurant to celebrate.
Dislikes;
Bullies and people who try to make her feel bad. When it is bucketing it down with rain and her mother won't let her play out. Any time when neither of her best friends are available. If any of her family or friends get hurt.
Strengths;
Caireann is a caring affection girl with a big heart and a big personality. She is loyal to her friends, affectionate to her family and is a confident outgoing girl who is always ready to laugh.
Weaknesses;
Caireann does not believe in worry or stress which most of the time is good but can be bad when she does not see the danger in something when she probably should.
Quirks;
Caireann tends to whistle for her puppy automatically even if he is not around.
Habits;
Caireann talks to her friends even when they are absent, her invisible friends are apparently called Sase and Angel.
Background;
Abiageal Ashlin and Aiden Ahearne met when she started working as a chef in the pub he owned. At the time Aiden was living with his wife in a flat above the pub. However the couple had been having difficulties and were undergoing a messy divorce. Two months after the divorce was finalized Abiageal and Aiden started dating. Within six months they were married and had purchased a new pub in Cairn Valley to begin their life together. It took four years of trying but the couple finally welcome their first child, a daughter who they named Caireann Ahearne. The couple were very close with the Keeva Family who lived close to them and were regular visitors at the pub. Mrs Keeva fell pregnant about the same time as Abiageal and gave birth within a day of her friends.
It soon became evident that Caireann had hyper-flexibility. This meant she was far more flexible than the average person and was capable of doing such thing as touching her feet behind her head and dislocating and relocating her joints. Worried she would injure herself, Caireann was a rough and tumble girl who kept pulling muscles, they signed her up for tumble tots. Mrs Keeva and Abiageal Ahearne were keen for their daughters to be friends and so Mrs Keeva signed Saoirse Keeva up for tumble tots as well. Much to their delight the children became fast friends very quickly.
When the two girls were three years old tragedy struck. Abiageal Ahearne was attacked by a gang of thugs whilst out shopping. She was lucky to escape with her life. While her mother was in hospital Caireann became a regular visitor at the Keeva home. By this point the friendship between the parents and the children was so firm that the families welcome both girls to either of their homes at any time. So Caireann felt loved and treasured even with her father busy working and her mother severely ill. When Abiageal recovered the family decided they were unable to remain living in Cairne Valley. Partially due to the lingering memories but also due to the fact Mr Keeva and Aiden Ahearne had both been made redundant in the economic slump Ireland was facing. Both families decided it was time for a drastic change.
The Keeva and Ahearne families packed up and moved from Ireland to England. They settled in London in two houses next door to each other. Caireann Ahearne and Saoirse Keeva were enrolled in the same school as they were both now five years old. Trying to make the move as easy as possible the girls were also enrolled in tumble tots in their new area. Mr Keeva and Aiden Ahearne both managed to acquire work at the local gas works and the two families were happy once more. Neither family was well off but they had just about enough and Caireann never felt like she was deprived or lacking in anything.
Caireann felt loved by her parents and flourished in the new school. She stuck close to Saoirse Keeva but also joined what clubs she could to try and fit in. She had always adored gymnastics and dance. By the age of seven she was a member of both these clubs. She and Saoirse Keeva had also made firm friends with Angelica Jordan. About this time Abiageal Ahearne fell pregnant again and gave birth to her second daughter Eerika Ahearne. Caireann Ahearne took to being a big sister right away. She was quite happy to play with her little sister, as she got bigger, and as Eerika Ahearne started walking Caireann had no problem with Eerika coming with her and Saoirse Keeva. Though of course not all the time.
Both Caireann Ahearne and Saoirse Keeva had one magical parent and one muggle. In the case of Caireann Ahearne it was her father who was a wizard and her mother who was a muggle. This meant her childhood was a mixture of muggle and magical and she was fascinated by the magical world of which her father was a part. She got on better with her father than her mother though she loves both her parents. Her mother, Abiageal Ahearne, is a loving mother but a forgetful one. She remembers things like birthday's because her husband reminds her. However more than once she has forgotten to pick her daughter up from school. Luckily she knows Caireann can walk and if it is raining she can always rely on Mrs Keeva to bring Caireann home with Saoirse Keeva.
As well as winning rosettes at gymnastics competitions and performing dance - often with Saoirse Keeva - Caireann also joined the badminton club. Her parents saved for a while to be able to get her, her own racket for her eighth birthday. While it is not the nicest racket in the shop Caireann adores it. She is a regular visitor at the Keeva and Jordan home and the first thing she did when she got the racket was rush to show Saoirse Keeva and Angelica Jordan.
Loving the outside Caireann Ahearne and Saoirse Keeva were often outside to go walking around the local area by themselves despite their age. There was a local playground with swings, a climbing frame and a slide. There was a swimming pool which had a free play session for children on Saturday afternoons. Most of all Caireann had her clubs, her friends and her long haired corgi puppy Buttons who went with her where ever she went, when she was not at school, and who had been intended as a family pet but very soon became Caireann's own pet. With her clubs and friends she is kept busy and almost every day of the week is filled.
Family;
Mother (Name, age, dead or alive, blood purity);
Abiageal Ahearne nee Ashlin
Father (Name, age, dead or alive, blood purity);
Aiden Ahearne
Siblings (Name, age, dead or alive, blood purity);
Eerika Ahearne
Other family members (Name, age, dead or alive, blood purity);
She sees the Keeva's and the Jordan's as Family too.
Favorite toy:
Caireann's favourite toy is a pink music player which her parents acquired second hand. It has white ear buds, hearts on the back and a variety of songs Caireann has managed to slowly get hold of over the years. It goes wherever Caireann goes, tucked in her pocket, even if she is not using it.
Favorite and Worst food:
Italian / Chinese Food and Gruel / Cabbage Soup
Favorite game or show:
Even though she has to watch it on their tiny TV which occasionally needs kicking when it looses signal Caireann's favourite show is 'Cairne Valley Railway' an Irish show about children that live beside a railway and get up to adventures. Her favorite game is musical chairs with hop skipping as a close second.
Other;
N/A
Animal;
Buttons the long haired corgi puppy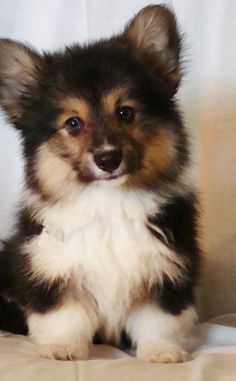 In Character Point of View ...
What do you want to be when you are older?
When I am older I want to be a famous dancer. Buttons and I will walk in Hyde park where the rich dogs work and everyone will love us even though buttons will be all wet from swimming in the lake. I will get phone calls all the time from people wanting to my friend but Saoirse Keeva and Angelica Jordan will still be my favourite. We will live together the three of us in a huge house with a swimming pool in the garden.
If you could change one rule your family has what would it be?
I would change my mother's rule that I cannot go out and play when it is raining. Sometimes rain can be just as fun as sunny weather. You can put on your welly boots and rain coat and go jump in the puddles and look for night crawlers in the lake and dance around in the rain.
How would the world be different if animals could talk?
I am not sure what Buttons would say if he could talk but I am sure I would want to hear it. Plus when he barks we would know he is saying 'burglar' or 'nasty rat' and not wonder why he is barking.
What is the hardest thing about being a child?
The hardest thing is having adults being able to make choices for you. I understand why we moved from Ireland and I am glad that we did but I sometimes wish that I could have had a choice in the matter.
Character is: